About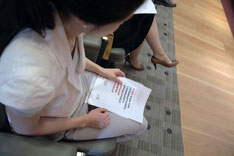 Engage Korea is a student­-driven humanitarian and educational initiative on the DPRK whose vision it is to cultivate a global network of students, junior scholars, and practitioners who are well-informed about the DPRK, thereby creating a sustained effort for peace-building on the Korean Peninsula. We do not follow any political agenda, striving to be impartial, constructive, and informative.
Engage Korea is led by Ye Jin Kang, a student at Harvard Medical School who has served as the program director in the Office of Global Research and Development at Pyongyang University of Science and Technology, and Stina Jinsun Bae, a Ph.D. candidate at Copenhagen Business School who wrote a report on Sweden's engagement with the DPRK while a research associate at Lund University. The staff of Engage Korea is comprised of students and junior scholars from across the globe with a shared interest in their common aspiration to see sustainable and peaceful change on the Korean Peninsula.
In support of its vision, Engage Korea has organized conferences that have brought together graduate students, junior scholars, seasoned academics, politicians, policy makers, and practitioners from NGOs and educational organizations, providing attendees with in-depth details on how to improve the lives of the North Korean people. The first conference was held at the University of Oxford in May of 2013, and Engage Korea provided logistical support to the Harvard Kennedy School North Korea Study Group and Harvard Medical School Students for Global Health to run a second conference in September of 2014. Engage Korea's next conference is planned for December of 2015 at the University of Cambridge. In order to bring these conversations to additional audiences, Engage Korea is now offering Online Educational Courses on the DPRK, a series of online short courses designed for students, junior scholars, and practitioners.